Local parents criticized for talking on the subject of inappropriate books in our local schools
The Trustees of this board bullied the speaker who was speaking for the first time. This was her speech.
Does your school have (internet filtering software) to protect OUR children from obscene, or pornographic websites in school including online apps? If the answer is YES why would you allow this same content to be IN BOOKS on the shelves of the school??
Parents monitor their children's internet browsing to protect them from the same people who just got arrested in Windsor Ontario of possessing and distributing child pornography
The speaker went on to discuss several books.
These excerpts are from This Book is Gay, found in 3 secondary schools.
"… although grown-up adult types are sometimes looking for a serious relationship, sometimes they are just looking for a spot of sexyfuntime…Gay and bi men have taken to app sex like ducks to sexy water."
"The benefits [of Grindr] are obvious: quick, easy, and uncomplicated sex"
THIS book is encouraging promiscuity with strangers.
If the following words make you uncomfortable – the images will SHOCK YOU
Two men can pleasure each other in a variety of fun ways.
Handies: … in order to be able to cum at all, you or your partner may need to finish off with a handie…A GOOD HANDIE is all about the wrist action. Rub the head of his cock back and forth with your hand.
Blowis: Oral sex is popping another dude's peen in your mouth
WATCH THE TEETH …It's more about sliding your mouth up and down the shaft of his cock.
Bumming: It is a universal truth that many men like sticking their willies inside things. …Well, in the absence of a vagina, gay and bi men make excellent use of the back door. Wanna know a secret?
Straight people have anal sex all the time too
Two women can pleasure each other in a variety of fun ways.
Fingers: Far more effective than a penis in many ways, a hand can do the job of five penises…
Oral: That clitoris really does like being licked and kissed…
…all people- gay or otherwise- must recognize that there is one universal truth of the universe: WE ALL WANT TO HAVE SEX WITH LOADS OF PEOPLE.
I want to be very VERY clear we are not homophobic nor against the 2SLGBTQ+ We know many in the Windsor community.
If this book was called This Book is Straight, I would STILL be doing this speech because it is extremely sexually explicit.
How are books chosen, who approves them, what is the process for removing them from the libraries. What about these books?
Fun Home that shows an explicit image of oral sex which would be considered pornographic anywhere else.
Push (the most disgusting book that uses the N word) ** at this same meeting there was a speaker talking about the use of the N word but they allow a book that mentions in many times) and talks about a child being molested by her parents!!!
As for the parents here, we need to protect our children from school boards who approve these types of books
ADDITION:
I have watched the youtube video many times. It appeared that our trustees were NOT aware of the books that were available in their schools. Or the public database. How is this possible? A question was asked to Clara Howitt regarding the Mommy loves her babies book,
and how it would fit into the teaching curriculum. She said she might refer to this book in class during International Womens day? Or if a child had a parent who was an exotic dancer. Ms Howitt also said "that the book is not about sex it is about love"
Parents bullied and disrespected at school board meeting
Top contenders for most dysfunctional school board in Ontario: GECDSB joins WRDSB in the rankings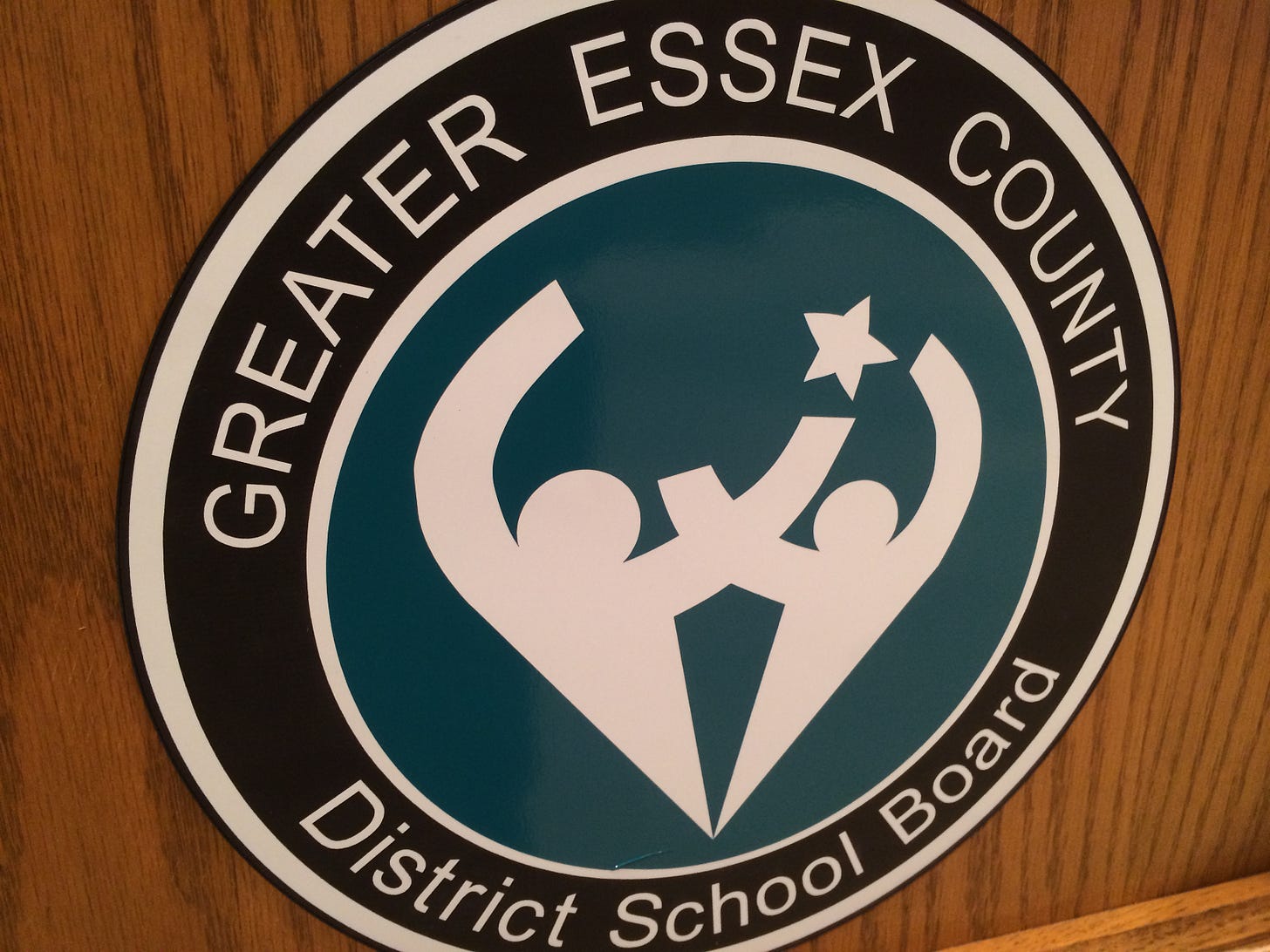 By James Pew & Elton Robinson
Woke Watch Canada Newsletter is a reader-supported publication. To receive new posts and support our work, consider becoming a free or paid subscriber.Subscribe
There is something going on with school boards in Canada, and it's not good. Something must be done before things get worse. Luckily, Woke Watch Canada has a few ideas. More will be explained in the days ahead regarding a new initiative involving investigative journalism into Canadian school boards and the parent oriented movements that are rising up to challenge some of the more controversial school policies which have recently left some parents wondering if schools no longer focus on academic achievement.
Part of this initiative is bringing forward and examining the stories of parents in the trenches who are dealing with Canadian school boards. If you feel this might be something worth supporting, keep following along with our school board commentary to get a better sense of what we seek to expand. You can help us now in our effort to bring investigative journalism to Canada's dysfunctional school boards by clicking on the big green button.
Canadian School Board Investigation
What goes on at school board meetings, is no longer staying at school board meetings!
Elton Robinson is a parent of two school-aged children. On Dec 6, 2022, he attended a meeting held at the main office in Windsor of the Greater Essex County District School Board (GECDSB). His experience that day with the GECDSB was brought back to mind on Jan 30, 2023 when he read Michael Zwaagstra's – "School Boards that tout 'Inclusion' must practise what they preach."
Below is Elton's explanation of what happened at the Dec 6th meeting, when a grandparent spoke on a motion which suggested that the online portal to the school libraries include an updated listing of new books, giving parents an opportunity to review them, before they are added into the system. Obviously, this motion was intended to address the concerns parents are having over the age-inappropriate sexually explicit books and graphic novels that have found their way into the libraries of K-12 schools across the country.
A video of the events described is embedded at the end of the post so the reader can see for themselves the disrespect and outright bullying of parents by the GECDSB Trustees.
The following is from Elton Robinson :
Grandparent Patsy Copus, with two supporters standing behind her holding large display cards showing images of the books being discussed, started her presentation by stating this is her first time ever doing this and that she has a disability. Also, she would do her best to be done in the five minute allotted time. Little did Patsy know that in the moments ahead, a publicly elected Trustee who seems to think that parents' concerns don't matter, would attempt to publicly humiliate her in what appeared to be a deliberate effort to silence criticism coming from parents.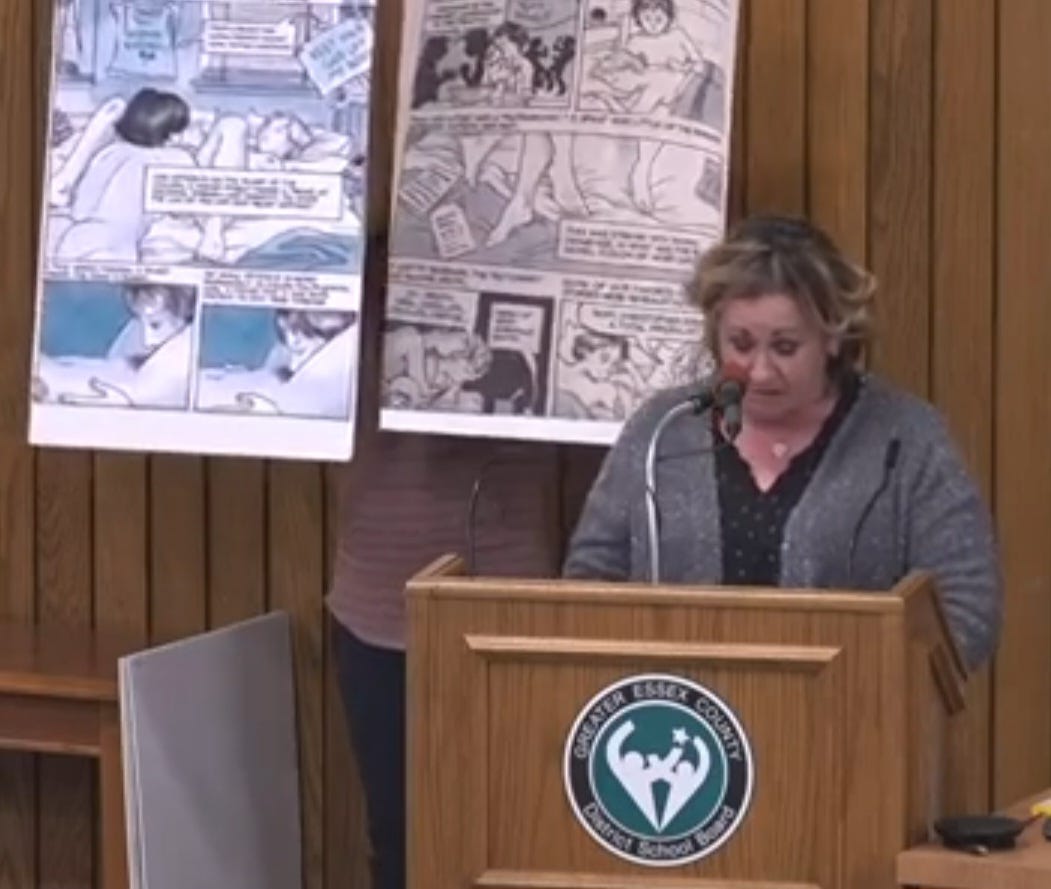 Patsy was speaking on Trustee Linda Qin's motion to have a separate list included on the virtual library to show new books that are added to any physical library at GECDSB. Patsy, and the other parents in attendance, are alarmed at the vulgar age-inappropriate content being included in K-12 libraries.
Patsy inquired "what happened to protecting children from graphic sex acts and language that would make your jaw drop." In addition she asked why GECDSB offers books that promote online apps and explicit sexual activities? She referenced that she is not homophobic nor against the 2SLGBTQIA+ as she knows many in the community. Patsy ended her speech stating "as for the parents here we need to protect our children from school boards who approve these types of books."The books referenced are Fun Home: A Family Tragicomic by Alison Bechdel (Graphic novel), This Book is Gay by Juno Dawson (Genre LGBTQ), and Push by Sapphire Genre (Urban Fiction). All three of these books have been challenged across North American school boards for age appropriateness including content of graphic photos of sex acts, how to use Grinder app to meet up for quick sex, rape of a daughter by both her mother and father and explicit use of the "N" word among many more things in these books.
Trustee Qin asked to have Patsy's card holders walk in front of the other trustees so they could get clarification of the information, and see for themselves the example images (taken from the books included in Canadian school libraries), that were part of the presentation. Trustee Cathy Cooke strongly objected stating that Trustee Qin did not need to clarify for all trustees and " we are not asking for you to do that." This seemed odd for her to speak for everyone as Trustee Cooke was not the Chair of the board.
Patsy asked "are the images offensive?" Trustee Qin made the statement – "these are already in the school board, why should we hide, it's just for clarification." Then a brave parent with the picture boards walked up to the trustees and showed them the enlarged images from the books. She made it down one side then across the front table when Trustee Cooke stated "I'm not asking you to come forward so go back." Chair Gale Simko-Hatfield stated "I explained clearly that our bylaws remit the questions to clarification only." But clarification is what Trustee Qin had asked for, so I was confused. Trustee Cooke seemed to be the only one not wanting to see what GECDSB had in some libraries.

Trustee Kim McKinley next asked "what schools have the books, so that the Superintendent of Education can find them?" The crowd of approximately 50 concerned parents were shocked that Patsy was asked to provide the superintendent with information regarding which books are in the libraries the superintendent is in charge of.
Patsy explained that others in the group had the list of schools and this was her first time speaking in public. Then Trustee McKinley said "well you mentioned the books that's why I asked". Patsy said, "The books are Push, Fun Home and This Book Is Gay." Trustee McKinley again asked "which libraries, I'm assuming they are not in all our libraries?" Why a Trustee would ask this is shocking. Should they not be more concerned that any school has these books in their libraries? Especially considering that Patsy went into great detail about the content of these books in her presentation. Patsy answered by explaining that she did not have the information present as she wasn't prepared to be asked for it. Trustee Cooke, with a condescending sneer, said "Just a point of clarification. So you are up here speaking and showing pictures about books that you don't know if they are actually in the system, you don't know where they are, you chose to come up here and speak and tell us." Then, Chair Simko-Hatfield patronizingly spoke about decorum among the concerned parents and threatened "to clear the room" if parents didn't behave properly. With that, Trustee Cooke continued to berate Patsy – "you chose to come up here and speak with all due respect and you are telling us these books are in there, I'm asking you what schools are they in , don't look in the audience, you chose to speak, you should have that information." Patsy replied "I only have five minutes to speak though." Trustee Cooke snapped back – "I'm asking you one quick question: what schools are these books in?"
The parent holding the cards helped Patsy say "I will provide you with it, I will get my grandchild to help me get your clarification tonight." Trustee Cooke chastised Patsy saying "I hear what you are saying but I'm just going to say if I was asked to speak on something I would research it first without getting up in front of a whole bunch of people and saying that these books are in school but you cannot tell us where they are at." Patsy asked "can you?" Trustee Cooke snapped "I'm not up there speaking about it." Trustee Qin, the only ally to parents, interjected for a point of order several times but was ignored. Patsy said "I'm appalled! I'm a concerned parent. I came up here. I spent hours doing this and now you are telling me I have to show you proof of books that you have approved to be on the shelves for my grandchildren. How dare you! Are you too lazy to go and check for yourself?"
Finally, Trustee Julia Burgess had Chair Simko-Hatfield realize the point of order called by Trustee Qin – who, in referring to the way Patsy was spoken to by Trustee Cooke, stated she "does not feel comfortable to put pressure on speakers, it's not fair." A parent came up from the crowd to give information to Patsy. Trustee Cooke remarked snidely how she was "glad that someone could give you the answer." The parent that gave Patsy the information stated to Trustee Cooke "I will see myself out after this but how you just treated somebody who says she has a disability, that was not a point of order that was a criticism and that was disgusting you should be ashamed of yourself." Responding immediately to the crowd of parents, Chair Simko-Hatfield asserted, "those remarks were not appropriate to this meeting and if we cannot be more responsible I will clear the room before we continue."
I was appalled at the lack of respect shown by most of the Trustees for Patsy Copus and Trustee Linda Qin. Michael Zwaagstra is spot on when he wrote in his article "It's interesting how quickly some trustees seem to abandon their support for diversity when exposed to viewpoints that they find offensive. Whether trustees like it or not, there are still tens of millions of people in North America who hold traditional views about gender and sexuality. This isn't going to change anytime soon."
This will not be my only Woke Watch Canada report on what is going on at the GECDSB, as well, I plan to examine the situation at the WRDSB, so I can decide for myself who deserves the championship title belt for most woke and dysfunctional school board.Elton Robinson.
It is ironic when one considers that in many cases, gender ideology has entered schools, skirted inclusion in the actual sex-ed curriculum, and avoided public scrutiny by shielding itself behind anti-bullying policies, only for the school board trustees to reveal themselves to be the bullies when those policies are challenged. Many administrators and boards claim that these policies cannot be questioned because of the human rights of children. One would normally have expected that serious changes to sex ed curriculum and health education to have undergone a public debate – but, as we have seen when parents bring up these issues at school board meetings, this is simply not the case with gender ideology.
Below is the video of the events described above. The December 6, 2022, GECDSB parents meeting, where Patsy Copus addressed the board:
https://www.youtube-nocookie.com/embed/QIy2_3qutHI?rel=0&autoplay=0&showinfo=0&enablejsapi=0
___
Thanks for reading. For more on the encroachment of gender ideology into the Canadian school system, read School Stonewalls Parent Concerned with Gender Ideology
Please support Woke Watch Canada by becoming a Paid Subscriber.